The Eco Cool Masters Double Bubble White Insulation with a thickness of 0.39 inches (10 mm), with a foil surface on one side and a white surface on the other. This insulation is rated and tested by reflectivity and emissivity. It is 97% reflective and 3% emissive, meaning the product only allows 3% of radiant heat to pass through it. To put it simply, the insulation does not try to slow the way heat passes through it, the insulation tries to eliminate heat from passing through it. Our double bubble insulation can be used for both new construction and existing buildings. REFLECT, REDUCE, AND SAVE $. Stop getting ripped off by CFE. Join the coolest homes club in the Riviera Maya! Contact the PROS!
Best Radiant Barrier in the World. Sold in rolls of 4x100 Feet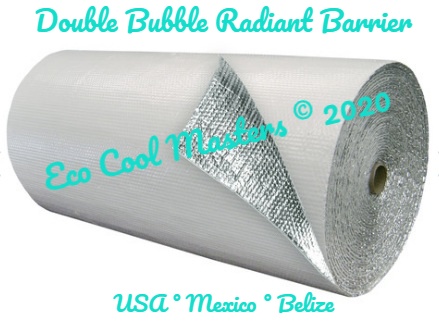 Save on your energy bill by installing the Eco Cool Masters Double Radiant Barrier. 97% reflective and 3% emissive!